Meet the Artist: Phoebe Lo
We reached out to the artist behind Phoebe Lo Studio, to bring her symbolic and escapist design style to two prints of our FW2324 Kismet Collection — Sahara & Kismet.
How did you develop your artistic style and where did you find inspiration?
I am an incredibly curious person so I am constantly playing around with color and composition, and exploring my love for soft shapes, saturated muted color palettes, gradients, and symbolic imagery. My art also changes depending on what I'm going through and what themes are coming up in my life. Transition, nuance, and fluidity are my muses of the moment. :)

What moved you to dive into full-time painting?
There is nothing better than doing something for work that asks you to continuously realign to yourself. I have had to trust myself, trust the process, listen for inspiration, and take care of myself so that when inspiration strikes I am energized and ready. I can't think of a better profession to have committed to! When I was just starting out, I had a job working for a non profit that gave me flexibility. Eventually the work kept flowing in, to the point where it finally made sense to commit full time and I am so happy I did.

You have such unique and beautiful color palettes — Where do you find color inspiration?
Thank you! I find a lot of color inspiration from special moments - like a juicy cantaloupe or the chartreuse color that comes from the sun shining through a leaf. I generally like when my colors look delicious, like their flavor would be filling in all the right ways. Because I like things so saturated, I often play with muting colors so that they complement each other as a whole.
When did your interests transition from graphic design to analog mediums?
I honestly love working in both simultaneously. Sometimes I will digitally play around with color palettes and change things quickly and constantly. Other times I roll out long craft paper on the floor to draw concepts out. I especially use both digital and analog when it comes to muraling a wall where I design everything ahead of time in Illustrator, and then scale it up.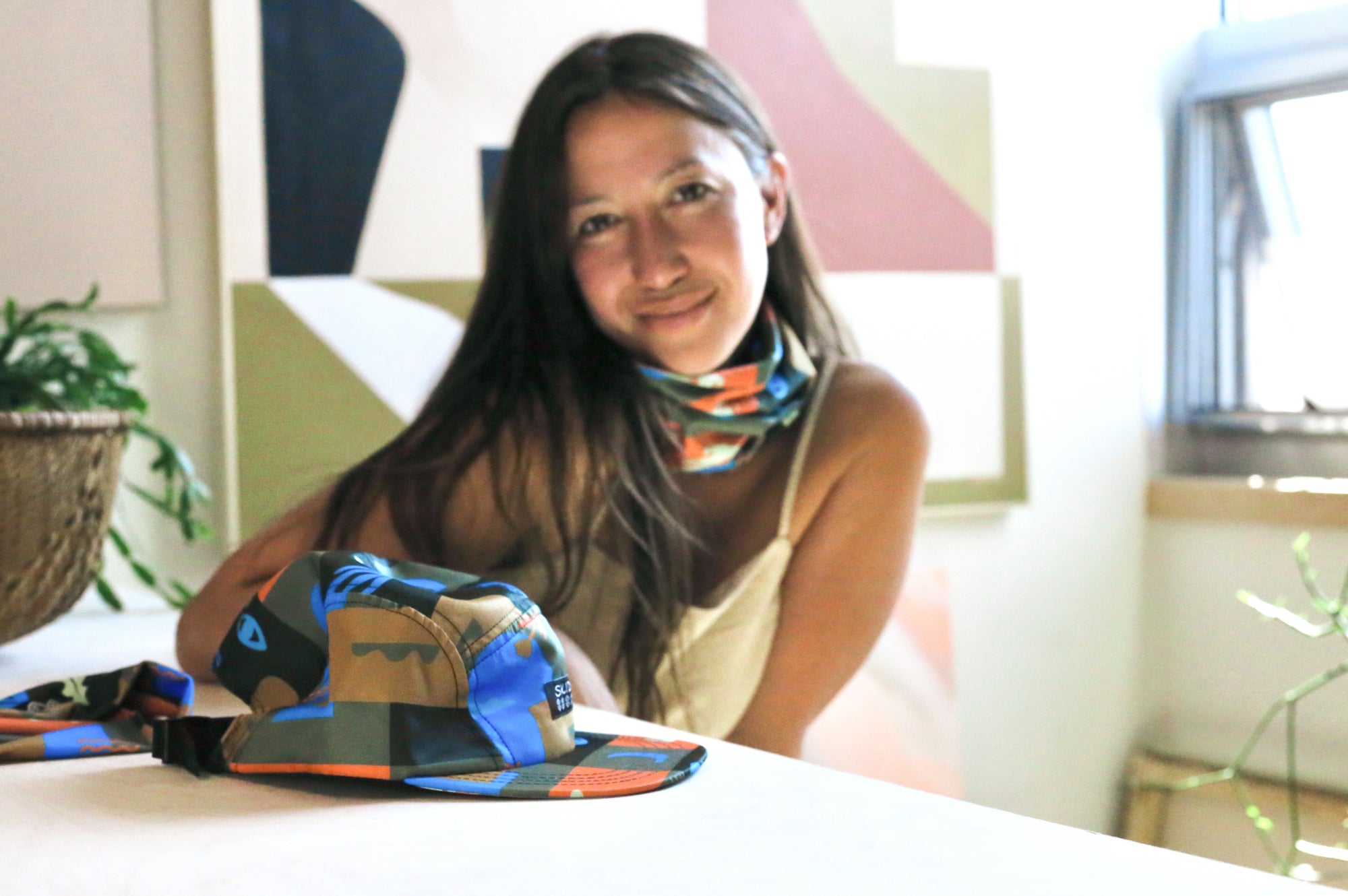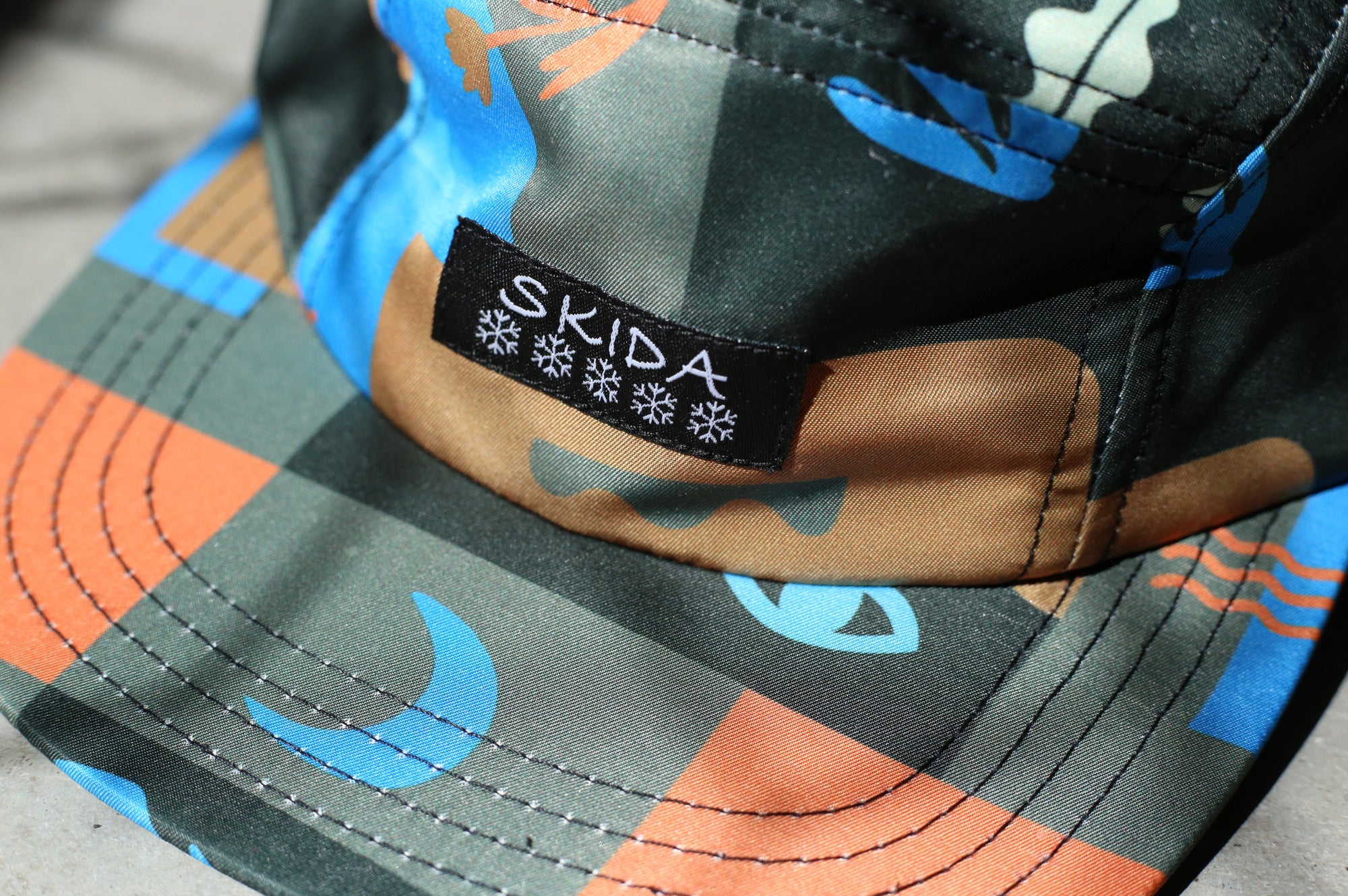 What is it like to go from large-scale murals to small-scale paintings?
It's nice to transition back and forth between the sizes because although they both make a significant energetic imprint on their surroundings, you interact with them so differently. While muraling, the image consumes you, and you do a lot of diving in and diving out. It's nice to feel small and enveloped in the process and it requires a lot of trust in your planning. With a painting, you consume it, turning it to different orientations, hanging it up, bringing it to new settings. It's heartwarming to create an object that someone will one day make memories beside.

What is your favorite medium to work with?
I actually cannot choose!! I am constantly switching between mediums because I love to play and have many interests. In the past few years I have taken a ceramics class, a screen printing class, I have started sewing again, I started block printing on fabric, I taught myself how to build frames, and I worked with wood to make 2D sculptures. Painting, muraling and design seem to be my backbone mediums, but I am so open to whatever else strikes me to try - film is one of the ones next on my list!

What is your creative space like? What are your must haves to get in the zone? Music, candles, etc.
My studio is such a sanctuary. Beautiful natural light, plants, a large wooden table in the center, stacks and stacks of paint. When starting a new project I am likely seen chaotically rearranging my space beforehand. It always has a new configuration that inspires me. I love to create while listening to music, there may or may not be a candle lit (how did you know?!).

You're going to an artist residency in Greece this fall! How are you feeling? What are you most looking forward to?
Greece has always drawn me - with its Cycladic architecture, ancient artifacts, and Aegean Sea - I am so eager to soak it in and see what comes out of me. I think I'm most looking forward to meeting and creating beside the other artists in the program!

Whats your go to song for – driving in the car? When in the studio? Impromptu dance parties?
Ooo do I have a list for you! I really believe that music and art are food. These songs fill me up in so many ways:

🎵 Gold - Little Dragon (for when I want to glisten)

🎵 Tu T'en Lasses - La Femme (for biking around at night peak summer)

🎵 Wet Dream - Wet Leg (full volume in the car, preferably driving next to a river)

🎵 A Storm on a Summer's Day - Full Crate, Gaidaa (rainy studio reprieve)

🎵 Sondela - TRESOR, Msaki (mid workflow)

🎵 Heated - Beyonce (dance party)

If you had to choose one Vermont delicacy - Cheddar, Cremee or Maple Syrup?
Although I'm a savory girl, I think I'd have to go with Maple Syrup. I use it in my matcha, my salad dressings. I actually think the last place I use it is on top of pancakes!!